EU Wall mount LED dimmer controller
Product Description
Payment & Shipping Terms
Supply Capacity
Unit Price:
10.0 USD
Production Capacity:
5000pcs a week
Trade Term:
FOB,EXW
Packing:
netual
Payment Terms:
T/T
Delivery Date:
10-15days
Min. Order:
100 Piece/Pieces
Means of Transport:
Ocean, Air
EU Wall mount LED dimmer controller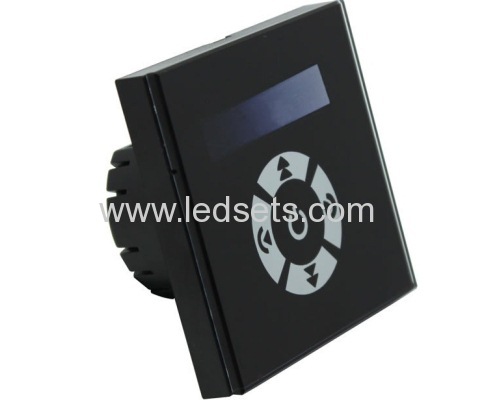 EU Wall mount LED dimmer controller is a new high-end controller which newly developed by our company. It adopts glass panel design, is beautiful and fashionable in appearance. It adopts high precision capacitance touch control chip, increases the touch sensitivity, reduces trigger which caused by mistake. It is used for controlling a variety of lamp whose source of light is LED. For instance, point source of light, flexible light strip, panel lights etc., it has many advantages such as convenient to connect, easy to use and others.
Technical Parameters
● working temperature: -20-60 ℃
● supply voltage: DC12~24V
● output voltage: DC12~24V
● output: 1 channel
● connection mode: common anode
● external dimension: L80 Χ W80 Χ H41.8 mm
● packing size: L105 Χ W105 Χ H53 mm
● net weight: 127g
● gross weight: 177g
● static power consumption:<1W
● output current:<8A
● output power: 12V<96W 24V<192W
Dimension in mm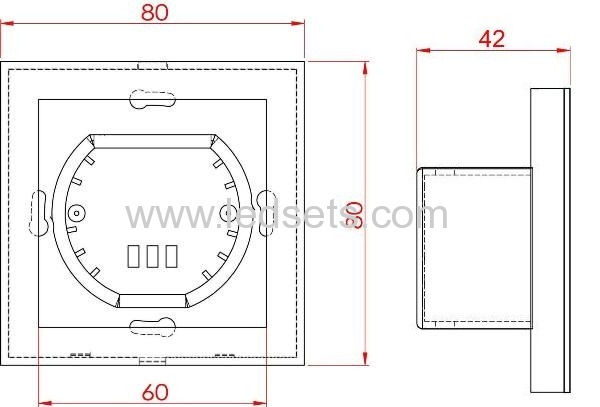 How to install LED strips?
"1", "2": power input pins, input voltage range is 12-24V, "1" is negative pole, and "2" is positive pole.
"3", "4": power output pins, output voltage is 12-24V, maximum output current is 8A, "3" is positive pole, "4" is negative pole.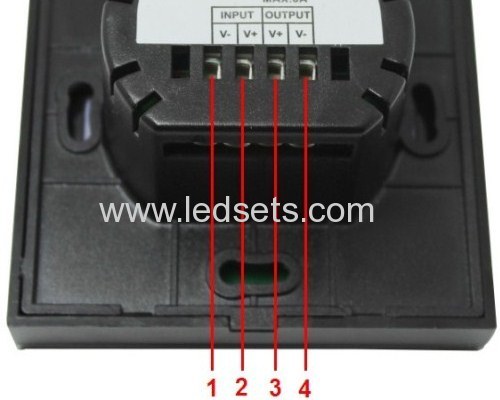 White housing is also available as well as black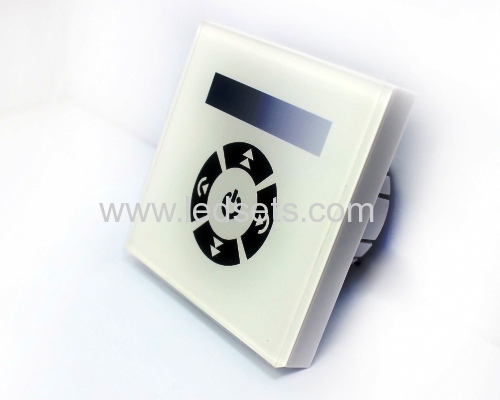 They are also with remoter controller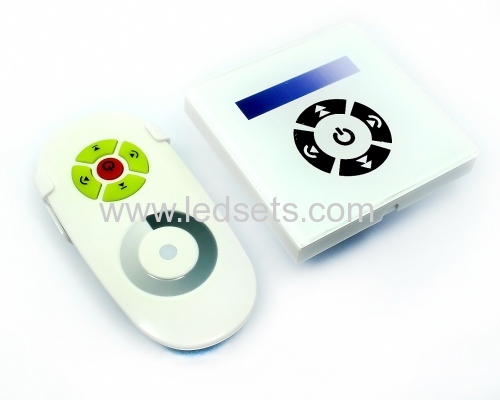 8 changing modes with the EU Wall mount LED dimmer controller
| | | | |
| --- | --- | --- | --- |
| No. | Mode | No. | Mode |
| 1 | Quick flash | 5 | Stroboflash |
| 2 | Breathing mode | 6 | A third stroboflash |
| 3 | Fading bright and fading out | 7 | Two-thirds stroboflash |
| 4 | Fading bright and fading dark | 8 | Alarms light flash |
Category: LED Dimmer Controller
Related Category: RGB LED Controllers DMX512 LED Controller