What is cob led downlight
Click Count: 5091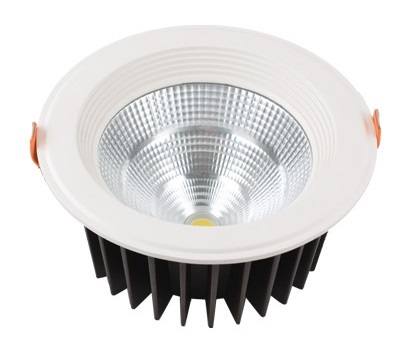 COB LED Downlight
is becoming increasingly popular and for some good reasons, like huge savings on electricity costs,Different colour temperatures for options and Over 35000 hours lifetime. They are welcomed as spot lights, study/work lights and general lights for home or commerical lighting, to replace incandescent bulbs and fluorescent light sources.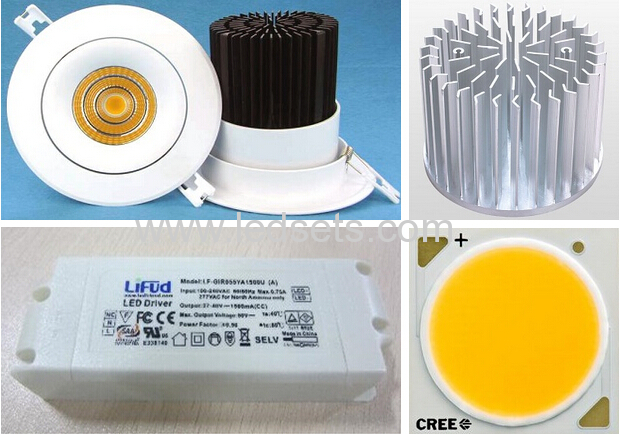 Prime
COB LED downlight
comes with USA Cree or Bridgelux LED as lighting source, ForgedA1070 aluminium as heatsink with thermal conductivity of 286W/m.K, and Brand LED drivers, likeLifud or Aide LED high quality drivers, to ensure a standing working for the lights, ranging from 7W to 50W, white and warm white.
Benefits:


COB LED downlight has a variety of benefits associated with them. These include:
1. Energy Consumption : LEDs use very little energy compared to other bulb types.
2. No Mercury : Increasingly popular compact fluorescent bulbs actually contain a small amount of mercury. This is a highly poisonous substance which is dangerous to both humans and the environment. LEDs do not contain this material.
3. More Room : One of the biggest advantages to using an LED downlight is that it removes the need for more intrusive illumination. Because an LED downlight normally sits inside a ceiling, there is no need for a lamp or a stand.
4. Safer : Because LEDs produce less heat, they are less likely to affect materials which surround them. This is especially important as a downlight because the light and its fitting are surrounded by plaster, insulation, and other combustible materials found in ceilings.
5. Longer Lasting : LEDs last much long than incandescent and fluorescent alternatives. This means less time opening up ceiling fittings and having to replace them.

Limitations


Despite the above advantages, COB LED downlights still have some negatives attached to them which consumers should be aware of. These Include:
1. Lower Light Levels : LEDs often produce lower amounts of light than incandescent and fluorescent sources. This is because the semiconductor material actually traps some of the light inside due to being a solid substance.
2. Short Term Cost : While LEDs will reduce energy bills, they do cost substantially more than other bulb types.
3. Variable Performance : Due to the manufacturing process, LEDs can vary in the amount of light they produce. This is especially true for older bulbs.
4. Poor Light Diffusion : Because downlights are set within a ceiling housing, the light does not spread out in the same way as an ordinary bulb. It cannot escape out of the sides. This means that more lights are required to illuminate one room as opposed to just a single fluorescent or incandescent bulb hanging from the ceiling.

Applications


1. Spot Lights : LED downlights are a great energy saving option for those who want to draw attention to an object or specific area of a room. This is great for highlighting that piece of art on the wall you love, or for creating ambient downlights on a book case, for example.
2. Kitchen Lights : When designing a kitchen, it is well worth considering installing some LED downlights. They can be placed above cooking areas which makes reading recipes and preparing food much easier.
3. Study Areas : Downlights are brilliant for areas where any paperwork or reading will be done.
4. Workshop : A garage or workshop is a perfect place to install downlights as they provide excellent overhead illumination for any project.
5. Atmospheric lighting : LED downlights often work best when used in conjunction with a dimmer switch.
They can create a relaxing atmosphere when used correctly.
COB LED Downlight can be used in a variety of ways and look fantastic when installed correctly. Whether an LED downlight is right for a specific situation or not will be decided by the context, but hopefully the above will assist home and property owners in making the right decision.